Our unique exterior texture wall coating is developed specifically for the protection and decoration of most external surfaces. It is applied up to 20 times thicker than ordinary paint.
Using high pressure spray, our coating fills holes,cracks and hides blemishes yet does not conceal the original architectural lines. It is ideal for concrete, masonry, block, brick, metal, plastic and many wood surfaces, both interior and exterior.
Our formulation is based upon an extremely durable synthetic elastomer polyester vehicle blended with Polybutene for flexibility. It contains fibre, mica, perlite, titanium dioxide and special colour components, to provide long lasting colour retention, weather-proofing, insulation and protection.
USE
For old Buildings, our coating restores their original beauty without changing the original architectural lines. It covers structural blemishes, holes and cracks.
The coatings eliminates the need for costly maintenance
For new buildings, our coatings provide a protective insulative coating, far outlasting ordinary paint. The textured finish hides form marks and other surface defects, which are usually still apparent when ordinary paint is used
USES: Our Texture Coating is an ideal coating for concrete, metal, masonry, blockwork, render, pebbledash, brick, asbestos, cement panels, prefabricated structures, profiles and most painted surfaces.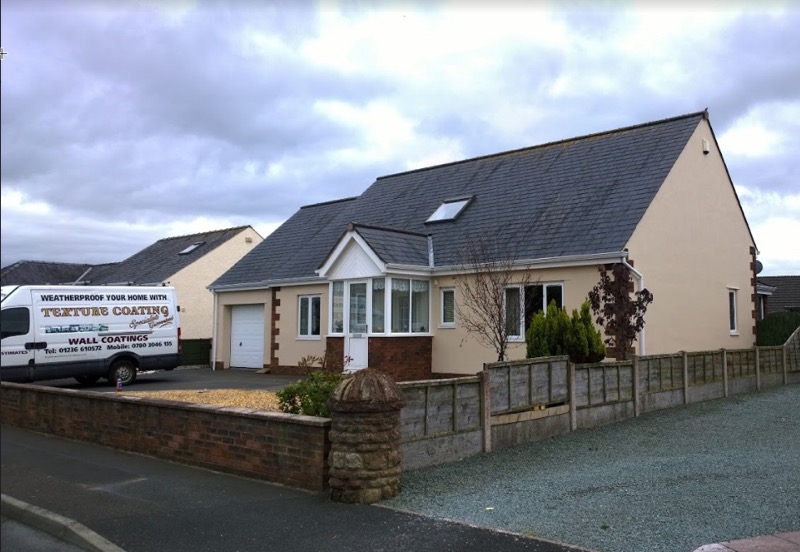 ADVANTAGES:
 Weather Resistant
Allows Walls to Breathe
Resists Penetrating Damp
Will not Chip, Flake or Peel
Built in Fungicides
Excellent Resistance to Stains and Dirt
Can be Hosed Down
Excellent Colour Retention
Tough and Flexible
Excellent Adhesion
10 year Guarantee
Saves Painting every few years
See our Colour Chart for range of 12 standard colours
Call Texture Coating Specialists Now  for a Free Estimate
on 0141 3630162 or contact us by email